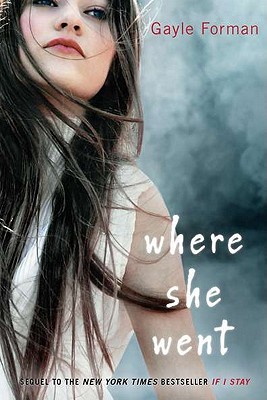 Book
: Where She Went, Gayle Forman
Publisher
: Dutton Juvenile
Release Date
: April 5th, 2011
Where She Went
is the sequel to the total heartbreaker that is If I Stay by Gayle Forman.
It's set three years after the car accident that claimed Mia's family. This book is in the point of view of Adam, Mia's boyfriend in the first book. In this book, Mia has gone to New York to attend Juilliard and Adam has become famous due to his band's raising popularity. And Adam is not handling fame as well as one would hope. After the promise he made to Mia when she was in a coma (If you stay, I'll do whatever you want. I'll quit the band; go with you to New York. But if you need me to go away, I'll do that too. And that would suck, but I'll do it. I can lose you like that, if I don't lose you today. I'll let you go. If you stay) you would expect the two to realise that they were soul mates and could get through anything together.
But no. In this story, Mia leaves Adam and goes to New York alone as she couldn't stay in the place where she lost her family. And Adam does not handle the breakup well at all. He is completely heartbroken and completely inconsolable. It was so sad to read about all the angst he went through in those three years since the accident.
Adam is wandering around New York the day before he's supposed to go to London to tour with his band when he sees that Mia is playing in Carnegie Hall, and, on a whim, decides to see her concert, not expecting her to notice him. But she does, and calls him backstage after the show. What follows next is Mia and Adam visiting different places of Manhattan while Adam reminisces how his life changed the minute Mia left it.
If I thought If I Stay was tough in its emotional intensity, I was wrong. This book went so much deeper to let its readers feel the pain that Adam went through. While If I Stay conveys its sad moments through happy memories Mia has with her family, Where She Went is a lot more gut-wrenchingly sad. You feel every emotion – every bit of sadness, anger, and betrayal along with Adam. It was so difficult to read, just like its predecessor, and yet, I still preferred If I Stay. Most people thought this book was better, and I understand why. But I honestly preferred the first book.
Why? I think it's to do with Mia and Adam's relationship. At the end of If I Stay, the reason Mia wakes up is because Adam asked her to. She stayed because Adam was beside her, willing to do anything as long as she didn't die. And yet, once she recovered, she broke up with Adam. I just felt like that was totally hypocritical and it made me hate Mia a little bit for making Adam go through so much turmoil. I know this part is covered in the book, and actually makes sense, but I still feel like Mia shouldn't have left Adam so harshly if she loved him so much.
But despite that, this book was still amazingly good and hits you in the gut with feels. It didn't tie things up with a pretty red bow, but it was realistic, and still satisfying. I would totally recommend both books.