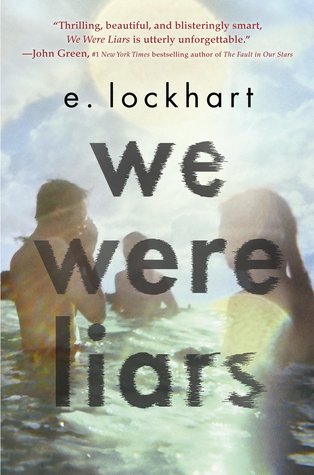 Book
: We Were Liars, E. Lockart
Publisher
: Delacorte Press
Release Date
:
May 13th 2014
This book was the winner of the Young Adult Choice Awards on Goodreads for 2014, and was also part of Best YA Books of 2014 on Buzzfeed. There was so much hype over the amazingness of this book and gasp-worthy shock ending; I felt I had to read it just from peer pressure alone.
And so when you're expecting a shock ending to occur, you're going to be constantly guessing throughout the novel what's going to happen. And while I didn't guess correctly, I still didn't react the way I wanted to, gasping and crying with horror. And this took away from the enjoyment of this book, I'm saddened to say. I think the way this book was narrated made this book unlikable as well; it's very fragmented and the protagonist often uses verbs to describe things, which was disconcerting. For example:
"His nose was dramatic, his mouth sweet. Skin deep brown, hair black and waving. Body wired with energy. Gat seemed spring-loaded. Like he was searching for something. He was contemplation and enthusiasm. Ambition and strong coffee. I could have looked at him forever."
I can just see all those underlines that appear under improper sentences on Microsoft Word!
Anyway, I should get on with the story. It tells the story of Cadence (or Cady) who has been going to Beech wood Island every summer with her aunts, grandparents and cousins. Gat, her aunt's husband's nephew has been coming to the island since she was eight, and now, at age seventeen, has become a love interest for her. However, during the summer she went to the island when she was fifteen (known as summer fifteen), Cady has a terrible accident which leaves her with horrible migraines and amnesia, as she can't remember what happened directly before or after the accident, only what her mother and family members tell her (which she always forgets the day after). When her doctors suggest she stay away from the island for a while, Cady doesn't return until summer seventeen, where she's determined to find out what happened once and for all.
It's really hard to review a book like this where the big reveal is the most exciting part of the whole novel yet can't be revealed. It focuses mainly on Cady recovering her memories, as well as her relationship with her cousins and Gat, whom she calls the Four Liars (although it's never explained why they're liars). The Four Liars are Cady, Gat, Johnny and Mirren. The four of them spend the majority of Summer Seventeen together, when Cady isn't lying in bed suffering her migraines. Her romance with Gat returns just as it was in summer fifteen. However, she can't understand why nobody will help her recover her memories or why they sometimes insist on doing things separately.
If Cady isn't with her older cousins, she's with her mother, Penny, her aunts Bess and Cassie, her younger cousins and her grandfather. We don't get a lot of screen time with these other characters so we don't get any development from them – we just know that the adults really enjoy their wine, her grandfather often gets confused, and the little's… enjoy what younger kids do – playing Lego or reading. I wish the author had spent a little bit more time fleshing out those characters, especially near the end of the book. I would've felt more connected to them if I could actually see a change in them.
I think the best part of the novel was Cady's relationship with her cousins, especially Gat. You could tell straight away that when the four of them get together the rest of the world slips away and it doesn't matter that once summer is over, they'll all go back to their "real lives": when they're on Beech wood Island the only important thing is spending as much time together as possible and just having fun. Cady and Gat's relationship was back and forth: "I love you, I hate you, tell me what happened, I'm sorry, I can't, I love you, I know." It would make you pull your hair out and yet I felt the relationship was still somewhat believable, especially as they were only seventeen and they only saw each other once a year.
Overall, I think the hype over this book was more exciting than the book itself. I can't believe it was the winner of so many best books of the year awards, as I've read many more books that were more exciting and gasp-worthy than this one. If you're going into this book expecting an amazing bestseller, you will be disappointed. Just sit back try and forget that there's supposed to be a shock ending.