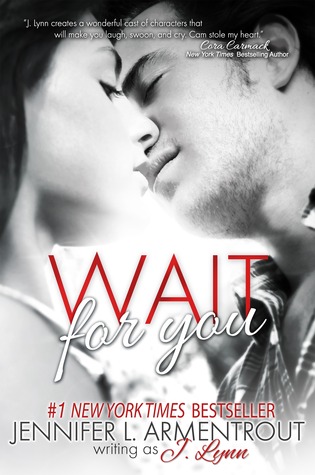 Book
: Wait For You, Jennifer L. Armentrout
Series
: Wait For You series #1
Publisher
: Entangled Publishing
Release Date
: February 26th, 2013
*Note: This book and series is NA, not YA*
After reading and falling in love with the Lux series, I was willing to try anything of Jennifer L Armentrout's (aka J. Lynn).
Avery is a girl with a secret – something horrific happened five years ago when she was fourteen that scarred her emotionally and forced her to move all the way from Texas to West Virginia to start over with new people who wouldn't judge her. While she planned on just surviving college with as little human interaction as possible, she of course runs into the hottest boy on campus (I'm serious here; their first meeting is when she runs straight into him on the way to her first class). This boy is called Cameron Hamilton, a boy with lick-able abs, an adorable dimple and extremely deep blue eyes that Avery finds herself getting lost in frequently. It turns out that Cam is in the same class as her – astronomy – and also lives in the same apartment complex as her. They start running into each other a lot (whether this was coincidence, fate, or Cam being a stalker, I'll never know) and form a fairly solid friendship.
Its obvious Cam is totally smitten for Avery, and begins asking her out on a daily basis.
"Hey."
"Hey what?"
Avery keeps turning him down, because she's trying to convince herself she's not falling for him and is only here to try and survive her past, not make new relationships.
I liked Cam, although I felt he was too perfect and didn't seem to really have any flaws. <SPOILER> plus I didn't like the way he kept calling her sweetheart, it seemed kind of condescending. <SPOILER> I can't help comparing him to Daemon, the hot love interest in the author's Lux series, who is described just as hot as Cam is, except Daemon is flawed. He's extremely rude and is constantly acting like a douche and/or jerk. Cam doesn't appear flawed at all, which is just unrealistic.
Avery, unfortunately, is a character I didn't like. I spent half the novel feeling sorry for what happened to her, and the other half wanting to give her a good shake for not telling Cam what happened when she had plenty of opportunity to. I did have a hard time connecting with her. However I could still feel for her as what had happened to her was horrible, and she had really unsupportive parents that didn't help her through it at all. So I can actually understand why she found it difficult to talk about what happened; even though I still wanted to shake her when she passed up a chance to tell someone.
Avery and Cam as a couple were beyond cute. They were the type of couple where, when together, were greater than when they were apart. Cam brought out the best in Avery and Avery brought out the best in Cam. They made each other stronger.
This book is not as good as the Lux series. If you're coming into it expecting it to be as mind-blowing as hot aliens, think again. These characters are (sadly) human. It's not a bad book; not a great book. I'm still going to read more of the author's books as the writing was still really good; it was the story I didn't like.
I would recommend it to fans of YA books and romance.