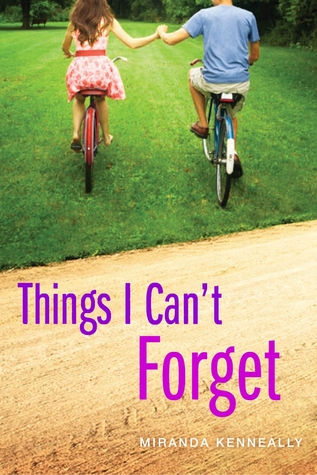 Book: Things I Can't Forget, Miranda Kenneally
Series: Hundred Oaks series #3
Publisher: Sourcebook Fire
Release Date: March 1st, 2013
Rating: 4 stars
After reading two of Miranda Kenneally's books, I have come to expect a super cute, sweet romance where we see her characters go through some tough situations but end up growing as a person by the end. This book was no exception. Like Stealing Parker, there was quite a bit of religion, but like Stealing Parker, Kenneally didn't make it seem preachy or anything; just something that our main character believes in and made the book seem a lot deeper.
In this book our main character is Kate, a girl with a crisis. She has super strong beliefs in God, so much so that she doesn't believe in sex before marriage or that boys and girls should share a room. So when her best friend asks for her help with an abortion, Kate is torn. She wants to help her friend but getting an abortion goes against her beliefs and she feels that God wouldn't forgive her for sinning. She spends the remainder of the novel torn between what she feels is right and God.
Kate isn't a character I liked immediately, unlike our protagonists in Kenneally's first two books. She seems quite prude and judgmental when it comes to things most teenagers think as ordinary or coming of age, such as sleeping with your boyfriend or drinking a beer. She makes it difficult for other people to like her or confide in her for fear of being judged. However, throughout the novel we see Kate come out of herself and learn to have her beliefs but respect others' beliefs too, no matter what they may be. Then Kate suddenly becomes the person many people turn to when they're in trouble, and I loved how Kate managed to overcome her prejudices and help them whatever way she can.
Because of Kate's closed off personality, she makes it hard to make friends. So when she loses the one friend she did have, we see her try and make new ones at a church summer camp she's counselling at. The first of these new friends she manages to make is Parker, a secondary character who was our main character in this book's prequel. I loved that she was in this book more often as I loved seeing what happened to her when Stealing Parker ended. While Kate and Parker don't become friends immediately, they slowly bond and Parker teaches Kate not to judge just because someone's beliefs may be different.
The second "friend" Kate makes is Matt, and I use the term "friend" loosely, because she ends up falling completely for him. However, Kate gets scared when she finds herself wanting to do things to Matt which her religion tells her is wrong. She becomes torn between her love for Matt and her love for God.
While I couldn't relate entirely to Kate's problems as religion isn't as strong a belief for me as it is for Kate, I loved the way the author handled it and how she had Kate grow.
Kate actually reminded me of an old friend I had in school who was very similar to Kate in her beliefs. She wouldn't drink, and when a boy wanted to make out with her, she would only let him kiss her hand. I think she would totally understand Kate's predicaments.
While I'll admit that this book isn't as good as the first two books in this series, it was still enjoyable and had all the elements one wants to see in a romance novel. It was sweet, funny, heart-breaking, tear-jerking and wonderful! The romance between Kate and Matt was super cute and I think they totally brought out the best in each other. And anyone who's worried about the religion aspect, don't be. Just like in Stealing Parker, we're made to understand that it's just who Kate is. She wouldn't be that character we all come to love if she didn't have her beliefs. I would totally recommend this novel to fans of romance and who enjoyed the first two novels!