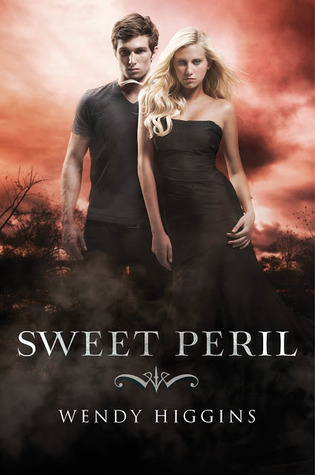 Book
: Sweet Peril, Wendy Higgins
Series
: The Sweet Trilogy #2
Release Date
: April 30th, 2013
It's quite rare that you'll find a book series where the sequel surpasses the original. But I believe that this book makes that very small list. Between Anna's expeditions around the world to her ever-so-steamy romance with Kaidan, it was impossible to put down.
While in the first book there's a lot of introductory stuff as the whole angel/demon/nephililm arc is quite complicated, we dive right into the story in the book without explaining so much.
After Anna's near death experience at the summit last year, she and Kai are put on hiatus for a while, even though Anna's heart continues to ache for him. The rare times she does see him, he continually pushes her away even though it's obvious it's the last thing he wants to do. To keep a low profile from the demons after exposing herself, Anna does what she's supposed to do: work. She's becoming known as the party girl at her school and everyone knows that if Anna shows up at a party, they're bound to have a good time. Yet most of the time Anna's not into it and is doing it all for show.
You could see a major change in Anna's character in the two books – in Sweet Evil she's portrayed as a sweet, innocent country girl who never drinks and gasps when someone swears. In Sweet Peril, while she still appears somewhat naive compared to her Neph friends, she definitely isn't as sickly sweet as she used to be. She starts taking self-defence classes and becomes a total party girl, but she's still the same Anna we love.
Kaidan has changed too. While in the first book we see him exactly as his father wants him to be: a guy trying to get any girl he sees into bed. However, falling for Anna has changed him and he begins to see that he doesn't need to work quite so hard anymore. He still that quick-witted, hot, amazing British boy we fell in love with, but he's softened up around the edges and has made him all the more endearing.
All scenes with Anna and Kai are tension filled and full of chemistry, and didn't disappoint me one bit. While they're separated for a while as it's too dangerous to be around each other, they're eventually brought back together and I had to swoon at their interactions. Every single one of them was perfect. While it seemed that Wendy was going to do a love triangle between Anna, Kai and Kope, thankfully that didn't work out and I am so glad.
The reason for the love triangle is because Anna and Kope are shoved together by Anna's dad to gain more Neph allies for an impending war against the demons, and they inevitably grow closer because of it. I really enjoyed that part of the novel actually (not the Kope/Anna kind of romance; that wouldn't have worked at all) no, the gathering allies subplot. We meet many interesting characters that I can't wait to see again in the third book, Sweet Reckoning.
What I thought was sad in this book was that Anna's human friends, Jay and Veronica, are only in it for a few scenes but that's it. Anna focuses mainly on her Neph friends so I hope that J and V are shown more in the last book. (Although I did like a scene with Blake, a Neph, and Anna where it showed them getting closer in a totally platonic way; it was super adorable.)
All in all, this was an amazing sequel which totally beat Sweet Evil for best book. I can't wait to read Sweet Reckoning and find out exactly how everything ends and see everyone get their happy ever after.