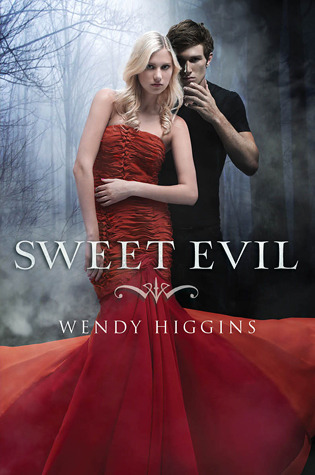 Book
: Sweet Evil, Wendy Higgins
Series
: The Sweet Trilogy #1
Release Date
: May 1st, 2012
When I first heard about this book, I was a bit sceptical. I'd read books about angels and demons previously and hadn't been too impressed with them; in fact, I downright disliked them, and I decided then that I was going to stay clear of any novels that had an angel/demon theme to it. I also had this going for dystopian novels, after reading a few series I really didn't enjoy. However, after reading Jennifer L Armentrout's Origin and discovering that she used the names of the main characters in Sweet Evil for a plot device type thing, I was like if one of my favourite authors loves this book so much she'll borrow their names, then that's good enough for me to at least sample.
And man, am I glad I did! Jennifer, whether writing books or reading them, seems to know exactly what I'd love. She's like my book angel.
Anna Whitt is not your average girl. While she tries to be a quintessential good girl, she always knew she was different. She's able to remember every detail of her birth and before that and see other people's emotions. She doesn't understand why, until her sixteenth birthday when she meets the alluring Kaidan Rowe, another like her: a nephilim. However, Anna is even rarer than Kaidan, who is half demon half human: she's half angel half demon. Kaidan tells her that all nephilim are expected to do the work of their demon fathers and make humans sin. Kaidan's father is the Duke of Lust, so he has to try and follow his father's example. Anna, whose father was in jail for her whole life, learns he is the Duke of Substance Abuse, so she must tempt people to drink and/or do drugs.
And that is just the background of the story. It's quite complicated, but very interesting to read. When Anna finds out who she is, she and Kaidan take a road trip to meet her father as well as a nun who put her up for adoption. The rest of the story deals with Anna dealing with who she is and what she has to do to try and stay under the radar of the demons so they won't discover that she's half angel as well.
And then of course there's the steamy chemistry between Anna and Kaidan. Oh my god, it was so awesome to read. Anna was very naive as she was sheltered her whole life, and Kaidan is the son of a Duke of Lust and has no qualms about exploiting her innocence. But then Anna learns that nephilim are the lowest of the low in demons' eyes and aren't respected at all; only expected to do their fathers' bidding. A relationship between two nephilim would be impossible. Tell that to Anna's loving heart.
Considering my experience with previous angel/demon novels, I really enjoyed this book and am so glad I read it! The characters are very interesting and well-developed, and any paranormal fan is sure to drool over Kaidan. He's your hot, brooding bad boy that good girls are all convinced they can change. He had a very dynamic background which I loved learning about.
I would definitely recommend this to any fans of paranormal, fantasy, and Jennifer L. Armentrout (as she recommended it to me, after all!)