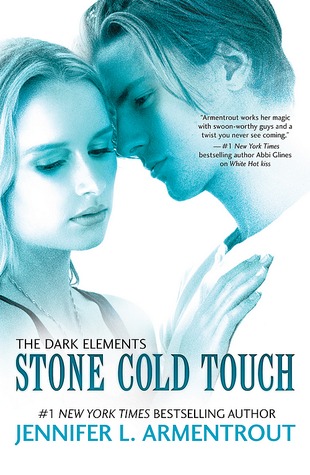 Book
: Stone Cold Touch, Jennifer L. Armentrout
Publisher
: Harlequin Teen
Release Date
: October 28th, 2014
Oh
Zayne. Oh Roth. Oh Layla. *incoherent mumbling while rocking in a corner*
I have been impatiently waiting for this book ever since I finished White Hot Kiss and I feel like the last month just dragged. But EVENTUALLY it came out and completely exceeded my expectations! It was totally worth the wait and so much more.
"My thoughts were all tangled together, because when I felt this low burn sloshing through my veins, I also thought of Roth and everything we'd shared. And when I thought about Zayne that way, I felt as though I was doing something wrong, which was stupid because as Roth had made abundantly clear, there was nothing between us."
I think the above quote is the best way to describe the love triangle in this book. I was Team Roth after reading the chemistry between him and Layla (plus my fetish for hot bad boys) in White Hot Kiss, but, if you didn't guess by the cover, this book developed the relationship between Layla and Zayne. And it was just so amazingly well-written; I couldn't help falling for Zayne too.
Zayne finally admits his feelings to Layla, who gets understandably confused since she still has feelings for Roth and has always believed a relationship with Zayne would be off limits due to her awkward soul sucking ability. But Zayne doesn't take no for an answer and this results in some awesome, sexy, steamy scenes between the two.
You couldn't get two love interests that were more different. There's gorgeous Zayne, Layla's childhood best friend who has finally realized that Layla is a girl he could have feelings for, and sinfully hot Roth, who will smirk his way right into your heart, whether you like it or not. The tension between the three is almost tangible and practically thick enough to cut with a knife.
And then there's my dear, sweet Layla. She has totally become one of my favourite heroines after this book. In White Hot Kiss, she was quite naive and stupidly brave, but she totally grows in this book. She's utterly kick ass, and is well able to hold her own in a battle, but she's also quite insecure and unsure of herself, just like any other girl her age. She's confused over her feelings for Roth and Zayne, and when there's a threat causing problems at school, she questions her abilities and whether or not she's to blame as she's a child of Lilith. It was heart-breaking to read and I just wanted to give her a big hug. I love how strong she is despite her unorthodox upbringing, especially when the man she once thought of as father stops trusting her and is part of the reason she doubts herself.
I also loved the secondary characters in this book. Layla's best friend Stacey, who is her only connection to a normal life, sticks by her side when things seem to be imploding all around them, and I loved her for it! She's also totally kooky and comes up with these awesome phrases that I am totally gonna start using. We also see Dez, Jasmine and Danika who we first meet in Bitter Sweet Love. I already loved Dez and Jasmine from that novella, but Danika I didn't like. However, she totally grows on me in this book and I hope those three make a comeback in Every Last Breath, especially as there's a mini subplot about how female Wardens are too protected which Danika hates, but I wouldn't be surprised if she ends up being the one to change the way the Wardens think about their females.
JLA completely delivers the feels in this book. Be prepared to feel happy, sad, and angry all at the same time. You'll have your heart broken and your mind blown yet you won't be able to stop reading. There are some major plot twists and a nasty cliff-hanger that'll make you begging for more. Everything I love about JLA as a writer is in this novel and then some. I can't wait to read the final in this trilogy as I honestly have no clue how it'll end. All I do know is that I need that book right now.