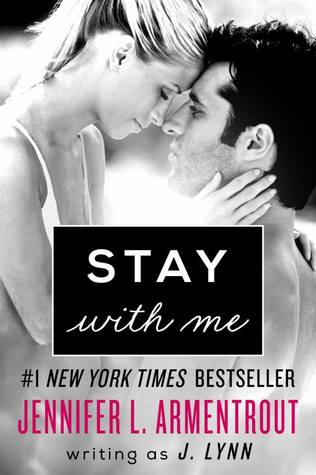 Book
: Stay with Me, Jennifer L. Armentrout
Series
: Wait For You series #3
Publisher
: Entangled Publishing
Release Date
: September 23rd, 2014
Note: This book and series is NA not YA*
I remember meeting Calla in Be with Me, and being intrigued by her. She was Teresa's only friend and I immediately knew she had some major demons concerning her past, demons she was very unwilling to share. However I believe J. Lynn has worked her magic again in creating a work of art in her novels.
Calla has been running away from her past ever since she started college. She's had a very tough life and she has the scars to prove it. At college, she's known as the quiet one. She observes those around her while contributing very little. But she has a plan with her life which involves finishing college and finally putting her past behind her by moving on with her life. And for the most part, Calla is content with this, until her past comes back to bite her in a big way that she didn't expect. When the mother she refuses to acknowledge to her college friends steals all her money and threatens Calla's return to college after the summer, Calla is forced to go to the one place she thought she'd put behind her: home.
After setting foot in the bar she grew up in for the first time in years, Calla meets who has got to be the hottest bartender ever: Jackson James. Calla is instantly attracted to him, and they are drawn to each other immediately. Jax knows all about her mom's problems, and is determined to help Calla get out of the mess her mom inevitably left her in. They form a very strong bond and we see immediately that Jax got Calla in a way that no one else had before.
It was the weeks spent getting to know him. It was the things I shared with him and he shared with me. It was the fact that he saw me, all of me, and beyond the skin, and he knew what existed on me and inside me, and not just the physical.
I think the best way I can describe Calla as a character is she's a dork. In the best possible way, though. Because of her mom's problems, Calla never got to do things most people take for granted. She'd never been kissed, gone to the beach, been on a plane or tasted apple pie. So it's safe to say she's a bit naive when it comes to relationships, so she says some pretty silly things to Jax, which he finds adorable but had me cringing into my pillow. However her dorkiness was endearing and totally added to the likeness of her character. She was also totally insecure due to the scars on her face and on her back, convinced that's all anyone saw when they see her and had lost the right to call herself pretty. Jax helps show Calla that her scars aren't what defines her and to stop covering up. I loved the way J. Lynn handled this section and how it made Calla grow as a character.
Jax is a total badass. It's the only way I can really describe him. He's a Marine, so he's been through some tough stuff in his life which has left scars both physically and mentally. He's extremely protective of Calla and will do anything to keep her safe, no matter what it takes. However, I felt he was very similar to J. Lynn's character Hunter, in her New Adult book Obsession. While I liked Jax and found him delicious, I didn't fall over him like I did Hunter, or Daemon (Lux series). I guess if I'm being totally honest with myself, Jax isn't really original. He had some excellent character development and I found him sexy, sweet in a totally badass way, and loved the way he cared for Calla. However I could use those same words to describe Hunter. I understand why J. Lynn writes characters like Jax and Hunter: they're book candy. Like Calla puts it, they make our lady parts (or man parts) go all tingly and we all love that and want it. But maybe for me to totally fall for the male love interest again, we need to see a little originality in her characters. Not blaming the book, just constructive criticism.
Anyway! I found this book very enjoyable with a good plot, great characters, and I loved that Avery, Cam, Jase and Teresa made an appearance as well, and they're still all loved up as two of the cutest couples in coupledom. That one star lost is mainly due to Jax being a little unoriginal and I also found the book a little long with some parts dragged out. However I would still recommend this book and series to anyone thinking of trying out New Adult for the first time.