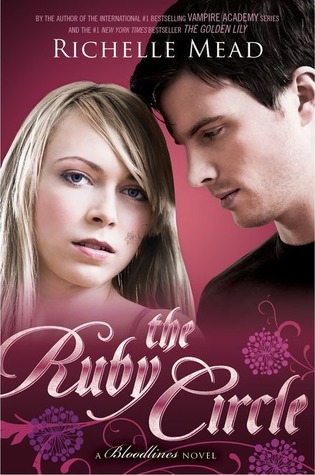 Book
: The Ruby Circle, Richelle Mead
Series
: Bloodlines Series, #6
Release Date
: February 10th, 2015
*minor spoilers in this review, beware*
Okay. Okay. Okay. Oh God. Okay. *clears throat* Where do I begin??
The Ruby Circle is the highly anticipated finale in Richelle Mead's beloved spinoff series to the Vampire Academy. Everyone – myself included – was waiting impatiently for this book to be released to see how Mead was going to wrap up all those plot twists and make sure our favourite couple was going to get their happy ending.
And oh my God, it didn't disappoint! This book was action-packed from beginning to end. Richelle delivered some awesomely-timed jaw-dropping moments, and I was guessing the whole time as to how this book was going to end.
Let's start at the beginning. We had already learned from Silver Shadows that Jill had been kidnapped. Sydney and Adrian, after having just gotten married, were living a life while together, albeit without freedom. They couldn't step outside Court as if the Alchemists discovered they were free, they were going to spare no expense in capturing Sydney and sending her back to re-education. However, these two wouldn't be my favourite couple if they didn't try whatever they could to save Jill. Sydney and Adrian have to split up, however, as they both have unique talents and abilities that will help them discover Jill's whereabouts, and unfortunately, it isn't together. Sydney heads off with Ms Terwilliger and Eddie to flesh out clues they have, while Adrian has to stay in Court to deal with a subplot regarding Nina and Olive, a dhampir and Moroi we met in the previous books. He has to use his spirit ability to help Nina locate Olive, who disappeared without a trace for unknown reasons.
Because the two spend some time apart, we get separate points of view from both of them, and, just like with the previous two books, it worked incredibly well. We get to see how both Adrian and Sydney feel about their current situations, the love they have for each other, and I loved seeing them develop into such amazing characters.
Both Sydney and Adrian have evolved incredibly throughout this series. I know I've mentioned that multiple times in regards to Sydney, but it doesn't make it any less true. She's definitely the most evolved heroine I've ever read about, and definitely my favourite. Even Rose, who is an incredible character in her own right, didn't develop nearly as much as Sydney did. It was awesome to read and I'm so proud how everything that's happened in her life, both good and bad, have finally led her to a life she deserves. Adrian has developed a lot since our first meeting in Frostbite. He becomes a man by falling in love with Sydney, and finally recognises that even though having spirit is a rare and special gift, it's nothing if he loses himself and his life with Sydney because of it. He will forever be my favourite love interest, and he has rightly discovered a spot there. I'm so proud of the choices he's made and the life he ends up with.
I also love that so many minor characters reappear in this book! Rose and Dimitri, fan favourites of so many, have a much larger role in this book than the previous ones, and it was great to see them still loved up and still kicking ass. Even Trey, Marcus and witches in Ms T's coven appear to help find Jill.
However, despite how much I love this book; there are a few flaws, because Richelle, despite being a goddess, isn't perfect. For a finale in such a heated series, I felt it was a tad short (especially given that the first chapter of the Vampire Academy is in this book too, so it's actually even shorter!) There were a lot of loose ends from the other books to tie up, and while they were tied up, it wasn't a perfect knot, and felt a little rushed. <SPOILER> There was also a tiny thing that happened in the end I wasn't so happy about. In the epilogue, we see all our characters together and how they've all received their deserved happy endings in life. And while I adore Sydrian, I also knew that they were only nineteen and twenty one, just barely starting their life. I felt that kids, while a definite possibility was for way ahead in the future. So when they decided to take in Declan, the miracle child of Olive and Neil, I have to say I was disappointed. It was a perfectly sweet ending, just as I wanted, except for that minor thing.
But besides that, this book was everything I wanted and more. It starts off as Sydney's book, but somewhere along the way, it became Sydrian's book. We see Sydney and Adrian kick ass in their own ways; grow up into the people they were meant to be while still so completely in love with each other it was heart-breaking in the best way possible. These two are the ultimate example of how a couple should stand together in the face of everyone saying it's wrong. It was the perfect way to end my favourite series, and all I can do is hope that in the future, Richelle writes a new series based in this world, because I know I'm not ready to say goodbye yet.