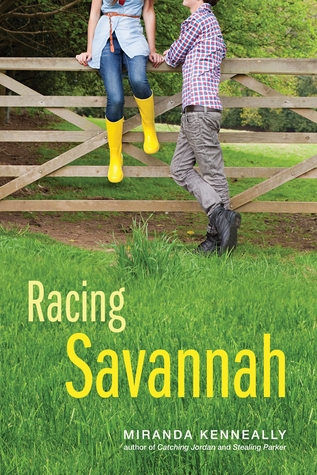 Book
: Racing Savannah, Miranda Kenneally
Series
: Hundred Oaks series #4
Publisher
: Sourcebook Fire
Release Date
: December 3rd, 2013
Its books like Racing Savannah that make me create new shelves on my Goodreads shelves. More notably, ones called "unputdownable". Because that's exactly what this book was. I just couldn't stop reading! I think it's definitely my favourite book out of the Hundred Oaks books so far.
This time our main character is Savannah, a senior who loves working with horses. Her mother died when she was eleven, and as her parents had no health insurance, her father is now up to his eyeballs in debt, so much so that they have to work for a snooty rich family. Her father's job is to groom the horses; her (pregnant) stepmother's is a maid, and when we first meet Savannah, she wants to get a job like her father, minding the horses. However, the family's pompous son, Jack, also loves horses and is in charge of deciding if Savannah's good enough to work with his horses. And, as this is on par with Kenneally's novels, an adorable romance ensues.
I loved Savannah's character. From the very first page we knew she had a take-no-crap attitude which I loved. As a female horse jockey, she got a few odd looks and chuckles from the older, more experienced jockeys, but Savannah just took it all in her stride and her responses to some of their comments made me laugh aloud more than once.
Jack, just like all of Kenneally's love interests, was yummy. At first he was portrayed as this snooty, cocky rich boy who could get anything he wants. But we delved deep into his character and we discovered that even though Jack had many opportunities handed to him, all he really wanted was his father's approval, which is something many of us can relate to. He and Savannah had a forbidden love story going on, as Jack wasn't allowed to date his work staff, and while they faced many obstacles both together and separately, both come out stronger because of it.
I also enjoyed the setting this book was set in: the whole live-in maid dynamic was quite unusual as I'd never experienced that where I'm from and it was quite interesting to read about. I also loved how all the workers had a very strong bond and would always stand up for each other.
Anyone who has enjoyed this series are sure to get a kick out of this book as well. While it's not necessary to read the previous books to understand what happens in this book, I would still recommend it as they are just as good as this one and it's nice to see when Kenneally gives us a cameo of the previous characters and let us know where they are in their lives and that their relationships are still going strong.
A nice read for anyone looking for a cute, contented love story.