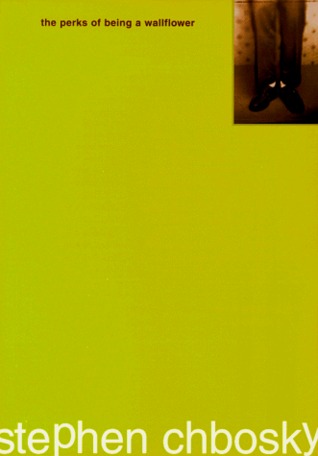 Book
: The Perks of Being a Wallflower by Stephen Chbosky
Release Date
: February 1st 1999
Wallflower (noun)


a shy or retiring person who remains unnoticed at social events, especially a woman without a dance partner.
I think part of the reason I related to this book is because I am a wallflower, just like Charlie. I don't have many friends; mainly one. I do not get noticed easily. I am quiet. I keep to myself, spending most nights in my room reading. And while I would love to be able to speak my mind and get noticed, I seem destined to remain a wallflower.
Perks of Being a Wallflower is a really inspiring and poignant book. I could relate to it so much and felt like a part of me was in those letters.
Charlie is just trying to get through life as best he can, and finds that writing letters helps him deal with his emotions. He meets two friends, seniors called Patrick and Sam, who help Charlie break out of his shell and experience new things such as drugs, alcohol and cigarettes – all the things teenagers go through, especially during their first year of high school.
While I haven't done drugs, I have smoked and drank, and do feel the peer pressure to do so at times, which I know other teenagers will have faced as well, which is why this book is so relatable to teenagers everywhere.
I think Charlie is a sweetheart. He reminds me of a young child who follows his parents around everywhere saying "Why? Why? Why?" which drives the parents demented but they can't help but love him anyway. He is dealing with so many different emotions and life experiences (and he's only 15) and is forced to deal with them all at once. He's still grieving the loss of his favourite aunt while trying to fit in at school and make some friends. While we didn't have that much in common (besides reading), I still found myself relating to him throughout the book. I am not that smart, I am completely average (sometimes slipping below average), and I don't have as many inspiring things to say as Charlie does. Yet, I still feel that if we happened to meet in the same life, we would become good friends; even if we were just us two and bottom of the social pyramid.
This book also had a lot of good quotes (most which could be found on Tumblr), but this one, not the most popular, stood out for me:
"Something really is wrong with me. And I don't know what it is."
Because teenagers everywhere find this book inspiring as they feel different, especially in high school, I feel like this quote could suit them perfectly. I know it sums me up perfectly.
This book kept me glued to the page. Charlie's inspiring words and interesting personality made it very appealing. While high school is a very daunting place to go to, this book showed us that even special people like Charlie can survive and can cope with all the pressures that high school brings.