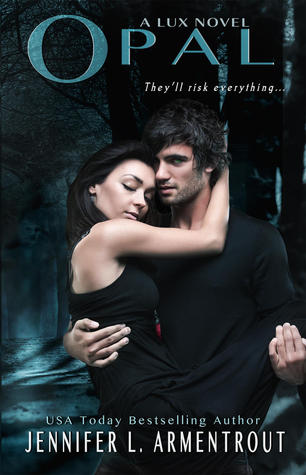 Book
: Opal, Jennifer L. Armentrout
Publisher
: Entangled Publishing
Release Date
: December 11th, 2012
This is how I felt when I finished this book:
It was totally evil!!!
I feel the same way about this book as I do for Onyx. Not a lot of action, but I loved the bonding between Daemon and Katy, it was so sweet. Daemon was already hot, but who knew he was incredibly sweet as well? He just made me melt.
They spent the first two books drowning in sexual chemistry, and now that they're finally together, it's just:
all the time!
I always loved Daemon anyway, he's just so hot and protective and awesome – everything I love in a guy!
But he's also totally romantic and sweet, so now he's even more perfect.
I was afraid that once they did get together, the thrill of the chase being gone would make me bored, but thankfully that isn't the case. It just helped reaffirm that they'll be able to get through any obstacle together. They have both grown, both for the better. Katy has helped Daemon grow personally and make him a better person (and less hostile toward humans) and Daemon has helped Katy become more of a fighter (in a totally good way) and much more confident and not just stand in the background and watch helplessly, like she would've in Obsidian.
There were some pretty nasty surprises thrown in with Katy's classmates:
(SPOILER) although I had my suspicions with Simon!
Dee has changed since the circumstances in the last book and her friendship with Katy has taken a turn for the worst. I hated this because Dee was such a funny, bubbly character and I hope she learns to deal with the changes in her life.
Dawson is also back, and while I'll always be Team Daemon, I liked him, even though you could definitely see a difference in him from the character introduced in Shadows. However I'm totally not surprised, considering what he went through. It's just so sad.
Sigh :(
Throughout the book though, we see little things that show he is slowly SLOWLY beginning to come out of himself, however he still needs Beth to really repair himself. I really hope that he and Dee are able to overcome the walls that are blocking them.
I loved how Katy's mom is actually pretty prominent in this series and not just mentioned every so often. She actually takes an interest in Katy and Daemon's relationship (even trying to tell some embarrassing baby stories to Katy's humiliation), which I really enjoyed.
While the ending had me tearing my hair out, I was fortunate to not have to wait for Origin to be released. Yay!
Amazing book by an amazing author. Keep them coming Jennifer! I will be waiting loyally.
(by the way, in case anyone hadn't noticed, this is my first review using GIFS! Might've gone overboard :P)