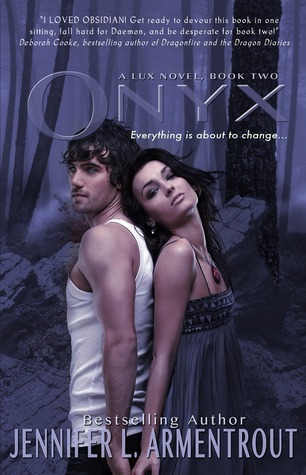 Book
: Onyx, Jennifer L. Armentrout
Publisher
: Entangled Publishing
Release Date
: August 14th, 2012
Oh wow. If I thought Obsidian was good, Onyx was even better. It's great when you can find that in a series, when the sequel surpasses the original. Another example includes the Bloodlines series (where I preferred The Golden Lily to Bloodlines).
While in Obsidian, JLA had to have a lot of introductory stuff (cause you know, it was the first book and all) but in Onyx, she just dives straight into all the juicy alien hotness.
We have a lot of character growth from both Katy and Daemon. While Katy has grown from the non-confrontational type to the wanting to fight to protect those she loves, Daemon's growth is a lot more personal. While he was king of the douches and jerks in Obsidian, here he spends a lot of time trying to convince Katy that he does care for her. And Katy, true to her strong-willed character, pushes him away every chance she gets, claiming he only wants her because of their connection.
"Daemon laughed. "I'm only at the service of one person in particular." My cheeks flamed as I scooted my chair over. "You are not servicing me in any way." He leaned in, closing my newly gained distance. "Not yet."
I can understand why she keeps pushing him away, considering how he kept treating her when they first met, however her stubbornness soon gives way to devastating consequences which ultimately change Katy and made me shed a few tears.
A new character was introduced here – Blake – and while I can't say much about him without spoiling the plot I will say to the relief of most of you – there's no love triangle! However Daemon did get jealous of him which led to some hilarious banter between all three of them.
"Jesus." Blake rubbed his throat. "You have an anger management problem. It's like a disease."
"There's a cure and it's called kicking your ass."
What I didn't like was that Dee, a character that I loved because she's just so bubbly and happy, is really minor in this book as Katy has to keep a lot of secrets from her. I really hope we see more of her in Opal.
The plot is much deeper and suspenseful since JLA didn't have to spend half the novel with introductory stuff and it kept me glued to the page. There were so many twists and turns that I gasped aloud more than once. What you thought would be straight forward turned out to be backward and kept me guessing until the very end.
And what an end! I'm just grateful that Opal has already been released and that I don't have to wait to find out what happens! And if this is book is anything to go on, it's that any of Jennifer L Armentrout's books just keep getting better and better.