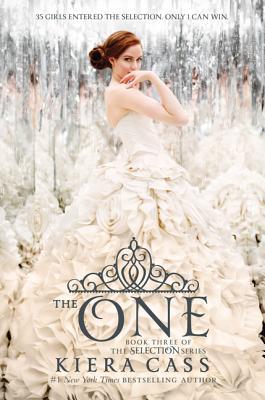 Book
: The One, Kiera Cass,
Series
: The Selection Trilogy, #3
Release Date
: May 6th, 2014
Sorry. That was the only way I can really put my feelings into words as to how I feel about this book. It was definitely the best out of the trilogy, and ended just PERFECTLY. Anyone who's read my review for The Elite knows my mixed feelings toward America Singer's character. In that book, she was very confused, and kept going back and forth between Aspen and Maxon. Thankfully in this book she is a lot more resolved and more confident in herself and how she feels, and it made me respect her a lot more. America also really matures in this book and I really enjoyed as she discovered the leader that was buried deep within in her come alive, and felt more secure and confident in her decisions and led to her acting a lot less rashly than in the previous books.
A lot happened in the book compared to the previous books. In The Elite, it focuses mainly on the love triangle (with a few rebel attacks thrown in) but in this book the rebels are looked at with a lot more detail and we finally learn the difference between the Northern and Southern rebels. We see America grow more into herself and become the princess she was always destined to be. There are still very tense moments between her and King Clarkson which make her doubt her ability to help Maxon rule, but, like I said, she had way more self-esteem and followed through on all her decisions despite the King's disapproval, and I really admired her for following her heart.
Every time Maxon and America were together, I practically melted. They were just so cute together! They had some extremely adorable moments and it was just precious to read. You knew they were going to end up together, but they had a lot of obstacles in their way which they had to overcome together. The biggest one I think was that America still hadn't told him that Aspen was the one she loved before arriving at the palace. I wanted to give America a whack every time she passed up an opportunity to tell him, and when Maxon did find out, it was, inevitably, in the worst way possible.
This book had so many things happening that I was guessing until the very end. I kept thinking one thing was going to happen, but then something I wasn't expecting would occur instead. At one point I fell on the floor and crawled into the foetus position because of the way this book made me feel. However it was brilliant and I think Cass really made up for frustrating me so much in The Elite.
This book does have its flaws, as many have pointed out. America can be an irritating character, and it is basically a book version of The Bachelor. However, I think what makes this book so fun, and (sorry I have to say it) impossible to put down is its premise. It's about one ordinary girl's chance at becoming a princess. And when you think about it, isn't that every girl's dream? When I was small anyway, I always wanted to be a princess, to fall in love with a prince and live happily ever after. It's what happened to Kate Middleton, why she's the British version of Kim Kardashian. Cass delves deep into every girl's hidden desires and writes about them in these books. She writes every girl's hidden fantasy. And she writes them in a very fun and entertaining way that you can devour them in a single sitting. (Guilty.)
This book provides us with a very satisfying – if too perfect – conclusion, one that allows readers to close the final page with a very contented sigh.