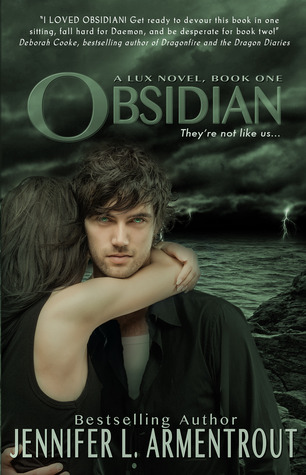 Book
: Obsidian, Jennifer L. Armentrout
Publisher
: Entangled Publishing
Release Date
: May 8th, 2012
Rating: 5 stars
I remember being afraid to read this book at first as I was afraid that I would be disappointed as I'd read some reviews and half of them gave the book 1 star and the other half gave 5 stars. However, after devouring this book, I'm glad to say – I love it!
"I have a strange idea that I should test this out."

"Test what?" My eyes dropped to his lips. I felt myself sway.
"I think you would like to know." He moved closer, his hand sliding up my arm and resting carefully at the nape of my neck.
I never really read stories about aliens before, but I was pleasantly surprised by how much I enjoyed this. It has mainly to do with Daemon – the hot, brooding, arrogant, hot alien. It took the scene (from which the quote above is taken from) to completely fall in love with him and this book. I could've literally finished it in one day except I hate doing that as when I love a book I prefer trying to make it last as long as possible.
The story seems very cliché at first: Katy and her mom move to West Virginia where Katy meets her hot, brooding, arrogant, hot yet really rude neighbour, Daemon. But Jennifer L Armentrout's writing is so good that she turned it into an amazing story.
When Katy becomes friends with his twin sister Dee she inadvertently spends a lot of time with Daemon too. And because he's such a jerk, they end up fighting a lot. Except the tension between them is amazing, and neither can deny the attraction toward each other (although they try as hard as they can to), so we get some scenes that are swoony as hell. Sigh. I loved those scenes. Such as car washing, swimming in the lake and hill walking where Daemon isn't being a total jerk and Katy has to try and remind herself to stop falling for him because for the most part, he is a jerk.
But then Katy nearly dies and Daemon works his magical alien mojo to heal her, which leads to her finding out about the twins' big secret – they're aliens! Dun dun dun.
I really loved Katy's personality. She's down to earth, funny, sarcastic and full of witty remarks. Plus, she's also a book nerd which made her even easier to relate to. I loved hearing her point of view as her head was never boring. She's also really strong-willed and is not afraid to stand up to Daemon and defend her friendship with Dee, which I really admired.
"Beautiful face. Beautiful body. Horrible attitude. It was the holy trinity of hot boys."
Daemon is a beast. An extremely attractive, yet infuriating as hell beast, who gave me goose bumps most of the time.
He keeps changing his attitude with Katy between hot and cold and hot again, depending on how he was feeling. Ninety percent of the time he treats her like an enemy, (where we get some really funny playful banter between them) yet we do get a few instances where we see the genuinely sweet side to Daemon.
"I won't hurt you, Kat." His tone was softer, but still laced with fury as he tried to control me without doing any real damage. "I could never hurt you."
5 stars. I absolutely loved it and am sitting at the mailbox waiting for book 2 to arrive.