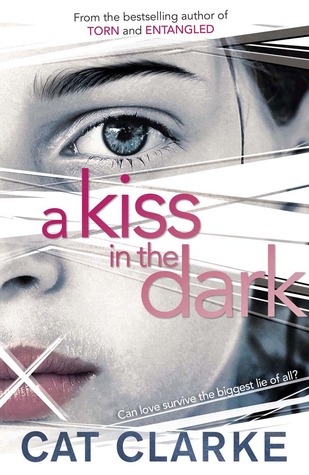 Book: A Kiss in the Dark, Cat Clarke

Series

: N/A

Publisher

: Quercus


Release Date

: March 27th, 2014
While this is my first review of a Cat Clarke book, I have read her other books so know that when I pick one up I need to be prepared to be emotionally drained and saddened. And this book totally delivered on the emotionally crippling-ness.
It's really hard to review a book like this while trying to remain spoiler free. Even the blurb is misleading to keep the plot suspenseful! It basically tells the story of Alex and Kate – two teenagers who meet on the internet over their mutual love of a band and starts a relationship together; all the while one of them is hiding a big secret. You knew from the first few chapters that our characters were put in impossible situations where any solution is going to have of them feel hurt and betrayed.
I was constantly trying to think up of ways the secret-keeper was going to try and explain her situation but I couldn't come up with anything that would allow the characters to live happily ever after. And when the secret is finally exposed, it ends up hurting our characters even more. It was terribly hard to read and I felt so bad for both Alex and Kate. What I loved most about this book was genuine connection between them. Despite the wall between them, they had great chemistry together.
We spend the first half of this book from Alex's point of view, and I really enjoyed her character. She felt completely out of her element and that she didn't really belong anywhere and nobody understood her. Then she meets Kate, and through this bubbly, carefree girl we see Alex come out of herself and learn to accept herself for who she is, and I cheered her on all the way.
In the second half of the book we get Kate's point of view and… I didn't like it. I'm not sure whether it's just because I liked Alex so much or that I just didn't like Kate, but I didn't like reading it from Kate's point of view. While I enjoyed Kate from Alex's POV, I didn't like how she was portrayed in her own point of view. She seemed mean, disrespectful and a little conniving. She begins to realise her mistakes and starts to suffer the consequences from them by the book's end, but I still didn't like reading about her character.
Clarke deals with sexuality in this book fabulously: she never put labels on any two people – it was love, pure and simple. You get that so rarely in a book these days, or in life. People have to put a label on everything and everyone. She's a loser, he's a nerd, and she's high-maintenance. Half the time it's unnecessary and hurtful. People are people.
Cat Clarke has delivered again in this gut-wrenching, emotionally crippling read. Prepare to feel for her characters and worry about their predicament all the while knowing this is not your simple happily ever after.