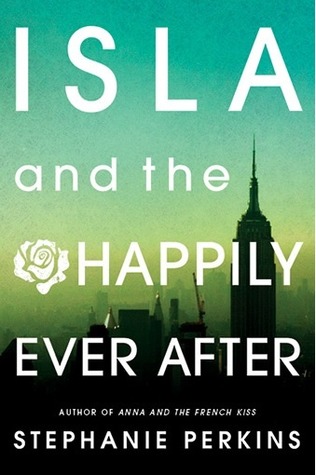 Book
: Isla and the Happily Ever After, Stephanie Perkins
Series
: Anna and the French Kiss #3
Publisher
: Dutton Juvenile
Release Date
: August 14th, 2014
Like its predecessors, Isla is as adorable and feel-good as Anna and Lola. We already know who Isla is as she made a small appearance in Anna: she's a shy, quiet girl in Josh's class who has a pretty big crush on him. I was looking forward to hearing her side of the story as I knew there had to be more to this girl than she was letting on.
And I was right! Like with Lola and Anna, Perkins has created a character completely unique to the other two books but draws me in just as fully. I feel like I have more in common with Isla than I do with Anna and Lola, to be honest. I'm also a quiet and shy girl, a middle child (with a high-maintenance younger sister) and in school I only had one other friend to hang around with. But, like me, and so many other quiet girls (or guys, for that matter) there was a lot more to Isla than first meets the eye. She was quite deep, and had a lot of insecurities and emotions that she didn't even know she had until she was expressing them at the most inappropriate time. I have totally been where she has in terms of not feeling good enough to do anything or be with anyone.
As we had already found out in Anna, Isla has a fairly consuming crush on Josh, Anna's friend from the first book. They get together fairly early on in this book, which was the opposite of Anna and Lola where the two main characters don't get together until the very end. Isla and Josh were so adorable together. There are some lovely scenes of them together in France, New York and Barcelona which gives you a warm feeling inside. They had chemistry and got each other in a way that Josh and Rashmi never had in Anna.
Of course, because they got together so quickly in this book that I knew something had to go wrong, and my poor heart could barely take the suspense. At first, it seemed like life and being underage affected their relationship: their school was pretty strict about boys and girls being in the same room and Josh's trouble making streak was a huge contrast to Isla's good girl streak, and it inevitably threw them in hot water.
And when Josh and Isla go through some tough patches, Isla is forced to stand in a mirror and truly look at herself. She finally faces her insecurities and low self-esteem and uses Josh's influence to take more risks and to learn to love all of herself and realise that she's perfect the way she is and deserves everything she's ever going to get.
After being in love with someone for so long, you inevitably create perfect fantasies of what life would be like when you finally get together with them, and real life nearly always disappoints you in some way. Isla has to look past those fantasies and discover that nobody is perfect, but that you have to look past those imperfections to the person underneath and learn to accept all of them, including their past.
I loved the start of this book: I loved Isla and Josh's relationship and Isla's character. But then, somewhere after the halfway point, I started to like the book a little less. When Isla's insecurities reveal themselves in the worst way possible, I literally had to put the book away before I started crying. But even though the ending (and I loved the ending!) was very sweet and cute and exactly how you wanted it to turn out, it still wasn't as perfect as the beginning of the book.
Was it as good as Anna? No, but it was better than Lola. I think Anna, as the first in the series, will always be a favourite, and her and Etienne's relationship is perfect when it's shown in this book (as is Lola and Cricket's). It's nice to see those characters from a different point of view and know they're still totally loved up and happy.
This book and series is an adorable contemporary read and I would definitely recommend them all to lovers of romance books and someone looking for a short sweet read.