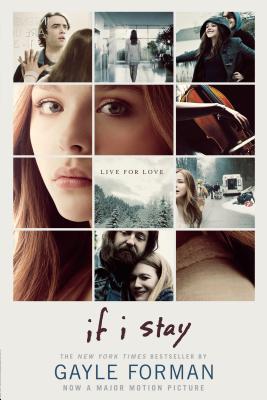 Book
: If I Stay, Gayle Forman
Publisher
: Dutton Juvenile
Release Date
: April 2nd, 2009
If I Stay is heart-breaking yet painfully realistic story about a girl being forced to make a brutally hard choice between living and dying. It will pull at your heart strings, make you tear a little, and make you appreciate the life you are living right now.
Mia Hall is a 17 year old girl who seems to have it all. She has a loving family, a rock star boyfriend who loves her and a chance to be a cellist for Juilliard. She thought she had a tough choice when she had to choose between staying in Portland to be with her boyfriend and realising her potential as a musician by going to Juilliard. Then, one fateful wintry February morning, Mia's life completely changes.
After a horrible car crash, Mia finds herself invisible and inaudible to those around her as she sees herself being treated by doctors in the ICU as they fight to save her life. But, as Mia puts it: "If I stay. If
I live. It's up to me."
So we see Mia's life flash before her eyes as she tries to decide what to do.
We see how she fell in love with the cello and classical music, how she meets her best friend, how she fell in love, and how her life has come to this.
It was absolutely heartbreaking to read this book, and yet I couldn't put it down. Seeing Mia discover the fate of her family and see her other family members break down when they discover how hurt Mia is was really hard to read, and it has totally made me appreciate just how lucky I am. Through Mia's eyes we see the exact same grief go through her family members that she is going through as well, and yet she is unable to communicate with any of them. I loved how the author made the pain so realistic and relatable to anyone who may have also gone through such a traumatic event.
I also loved Mia's relationship with her boyfriend, Adam. There are so many novels where the majority of the book is reading the back and forth banter between our two main characters, but them not actually getting together until nearly the very end. In this book, Adam and Mia are already together at the start of the book and we see through flash backs how their love of music brought them together. Unlike in other romance novels, where the characters seem to have perfect relationships and live happily ever after, Mia and Adam's are more realistic. They have their problems – they fight, they have their differences, and they almost break up a few times. But this is what makes their relationship so convincing: it's real. Relationships in real life are not perfect like they are in romance novels. No two people are so completely alike that they agree on everything and never have fights. So after seeing the difficulties that Mia and Adam go through yet still see the love they clearly have for each other, it made their relationship that much more relatable.
This is the type of book that will touch your heart and stay in your mind even after you've fallen asleep. You will find yourself contemplating life and the choices you've made and wondering if you made the right ones. You will learn to appreciate your family and live life to the fullest. This is a very deep book full of emotion that will leave you tearing at the end.