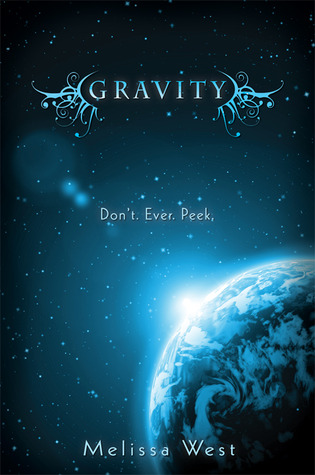 Book
: Gravity, Melissa West
Publisher
: Entangled Teen
Release Date
: December 18th, 2012
I was never really into alien novels (besides Obsidian, of course), but the blurb of this book sounded really interesting, plus JLA praises it, so why not?
And I'm so glad I did! This book was very interesting and had quite an original story which I found myself getting engrossed in from the first few chapters. It's set in the future, where two more world wars have already occurred and aliens are now attempting to coexist on Earth with humans. However, to adapt properly to Earth's conditions, the aliens, called Ancients, have to perform a "Taking" on humans to take their xylem. Ari, our protagonist, has been doing this for seven years, ever since she was ten years old, all the while wearing a mask that is required by law do the Ancients' identity stays hidden. When Ari loses her mask one night, she fears the alien will expose and kill her. Instead, she discovers her Ancient is Jackson Locke, a boy she competes athletically with in school, and Jackson has a an important favour to ask Ari: help him prevent and all-out war between their two races.
Let me start with the characters. Ari, I felt was a great protagonist. Compared to other dystopian novels I've read where the characters just annoyed me, I loved Ari's character. She was relatable, funny, smart and had good character development. Being asked to betray her own race is not an easy feat for anyone, and I really felt Ari's confliction as she questioned who she could trust and who the ultimate enemy was. She and Jackson have an instant connection, even though Ari still feels confused whenever she's with him.
Jackson kept a lot of secrets in this book. While I believed he cared for Ari, I also knew he had a lot of secrets he wouldn't tell Ari, which I really didn't like. I hope we get more character development from him in the coming books.
The minor characters, aka Ari's parents and friends, were great characters too. Her parents obviously care and adore her so much (despite her dad being a tad emotionally constipated) and her mother was super quick to do anything she could to help her daughter. Ari's friends Lawrence and Gretchen were great side characters too and had a purpose which I really enjoyed. I hope we see more of them in the next book.
Overall, I found this a very interesting book. While not as captivating as JLA'S Lux series, I still enjoyed it and will be finishing the trilogy. Hopefully Hover will be just as enjoyable as this book.