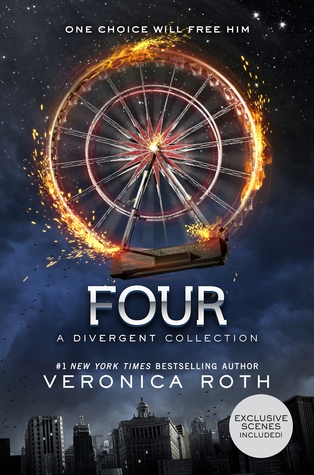 Book
: Four: A Divergent Collection, Veronica Roth
Series
: Divergent series #0.1 - 0.4
Publisher
: Katherine Tegen Books
Release Date
July 8th, 2014
These four short novellas tell the story of Tobias, before he got his infamous nickname. We see his life as an Abnegation, where he was good and quiet and stayed holed up in his room away from other people so he wouldn't embarrass his father, his only parent and someone he desperately fears. We already knew from the Divergent trilogy that Tobias was abused by his father, but we see in more detail the absolute terror he feels around him, afraid he's going to say or do the wrong thing if he isn't careful.
I really enjoyed seeing this part of Tobias, his younger, more naïve, and more innocent self. Before he learned fighting and how to shoot guns and got caught up in all the government political dramas, I could really relate to him. All he wanted was to escape his home where he couldn't cough without permission and go somewhere where he felt he belonged.
It was great to read and I would totally recommend it to any fans of the Divergent trilogy and anyone in love with Tobias Eaton.