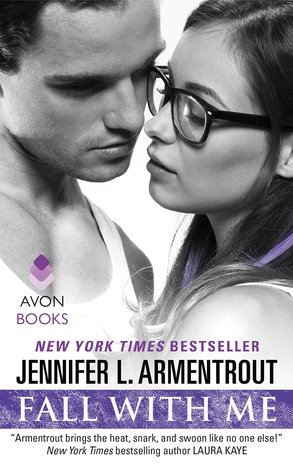 Book
: Fall with Me, Jennifer L. Armentrout
Series
: Wait For You series #4
Publisher
: Entangled Publishing
Release Date
: March 31st, 2015
Note: This book and series is NA not YA*
Jennifer has once again created some characters that you can't help but love. You feel how much events in their lives have hurt them and you just want them to get their happy endings. In Stay with Me, we got an introduction to Roxy, a quirky girl who works as a bartender, and Reece, a hot cop. However you knew there was something going on between them and we delve deep into their relationship in this book.
Roxy, our quirky yet lovable protagonist, has been in love with Reece since she was fifteen. However, he was always just out of her reach, and believed he only thought of her as a kid. So unspoken feelings and time passed both of them by; by the time they saw each other again, years later, Reece had seen some traumatising things at war which led to too many drinks and a dumb move made on both their parts. So Roxy, humiliated and hurt, starts to avoid Reece at all costs for the next eleven months. Reece is big on honesty and Roxy knows that if she admits she lied, she could lose him forever. As well as that, there's also your run-of-the-mill stalker scare.
I loved Roxy. I could relate to her on a lot of levels, from her quirky t shirts (I have a fair number of them myself), her quick temper and loving, supportive parents. After losing her best friend in a terrible accident, she's petrified of opening her heart up again so only date's loser guys, ones she knows she'll never fully invest in so she knows she won't get hurt. But Roxy has to learn that she can never live her life closed up like that, as it's not really living.
Reece, just like all of JLA's previous love hunks, is yummy. He's a cop, so you know he'll be ripped, hot and totally protective of Roxy. He was so tough and bossy most of the time, but he was also incredibly considerate and selfless too, and was always thinking of Roxy and what she needs. The two of them were perfect together. Reece had his own demons he needed to face, just like Roxy, but they helped each other face them and realise they didn't have to blame themselves for bad events.
True, the story is a tad predictable. While I could understand Roxy's fear of getting hurt, I'd read something very similar in Miranda Kenneally's Breathe, Annie, Breathe. The main character in that book had also lost someone close to her and therefore feared getting hurt again. I still enjoyed reading Roxy's own version, but it wasn't anything new for me. There's also a side plot of Roxy getting stalked, which was really freaky, but again, it wasn't difficult to guess who the stalker was going to be.
I still really enjoyed this book and look forward to the next instalments in this series. I love coming back to my favourite author after reading a book series by a different author.