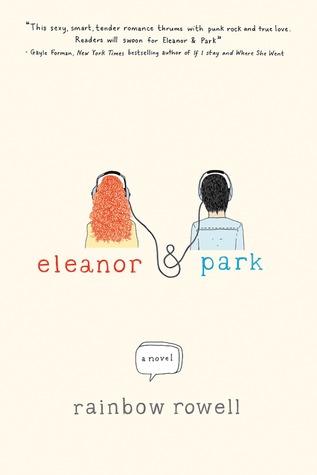 Book
: Eleanor and Park, Rainbow Rowell
Publisher
: St. Martin's Press
Release Date
: February 26th, 2013
This is a story about first love and what it's like to experience it at an age where everything seems impossible and the world seems to be against you; where it looks as if that you don't deserve love, even though you do.
Eleanor and Park is the book which goes against the cliché of unpopular new girl-meets popular boy, have a few fights but eventually fall for each other. And yet, in some way, this is exactly what happens.
Eleanor is the new girl at Park's school. She comes from a difficult household, where she's only just returned after her stepfather kicked her out of the house and had to stay with friends of the family for a year. Everyone is afraid to go near her stepfather and is always at his beck and call. Eleanor is the only one who wants to stand up to him, but can't as she can't risk being kicked out again. So because of this, she never asks for anything and just wears old men's clothes that her mother finds in charity shops. This, along with her weight and shocking red curly hair, immediately makes her stand out on her first day of school when she enters the school bus for the first time.
She is noticed by practically everybody who immediately shuns her because school politics dictate them to, and Park would have as well, except that she sits next to him on the bus. Park has a completely different home life to Eleanor. He has two loving parents, a warm bed and plenty of food to eat. In retrospect, these two shouldn't like each other. And yet, very slowly, this is exactly what happens.
And by slowly, I mean SLOWLY. Eleanor and Park barely speak to each other for the first part of the novel. Park reads his comic books and tries to ignore the girl beside him. But he begins to notice how opinionated she is in English and that she is subtly reading his comic books right alongside him. Soon he's lending her his comic books to read at night, and finally plucks up the courage to talk to her. Then they're debating the best comic book characters and listening to music together. And they finally fall for each other.
I really enjoyed the characters in this book. Eleanor isn't genetically made out to be a victim but it doesn't help that she dresses like she's blind. She's also not a friendly, polite person. Smiling isn't something she does often and she has no problem speaking her mind, not caring if it's appropriate or not. This makes her a very unique character, and I couldn't help but feel bad for her whenever she spoke of the fear she feels living with her stepfather. Park isn't the most popular boy in school, but not an "outcast" either. He's snugly in the middle, and is happy there until he starts falling for Eleanor and realizes that he does care what other people think. But he finally says "screw it" to the dictators of school politics and walks proudly down the school hall with Eleanor's hand in his.
It's a Romeo-and-Juliet love story and while it doesn't end as you want it to, you know by the end that both characters have grown and changed because they fell in love. And when asked in the future who their first love was, they'll remember the other with a faint smile on their face, reliving the memories they once shared together.
This is a great book for the lovers of quirky, nerdy romances with a dark underlying lair. It's a cute romance story which will bring a smile to your face whenever you read it.