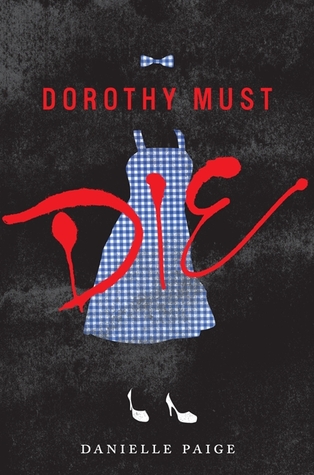 Book
: Dorothy Must Die, Danielle Paige
Series
: Dorothy Must Die #1
Release Date
: April 1st, 2014
I remember reading the blurb of this book and feeling very intrigued by it. We all know Dorothy as the innocent little farm girl who travelled to Oz, defeated the bad guys, and said some of the most famous words spoken in movie history: "There's no place like home."
I found it very interesting to read a novel where Dorothy not only returns to Oz, but is actually the evil tyrant whom the heroine must defeat. I really enjoyed Paige's take on this world, as well. She creates some new, very likable characters as well as recreating old ones while not making them seem recycled or boring. She took these characters and made them her own.
Amy Gumm is our heroine, a girl very like Dorothy in that she resides from Kansas and wants more from her life than a dusty old trailer with a mother who prefers her pet rat to her daughter. She's the complete opposite to Dorothy personality-wise, though. While Dorothy, (in the movie, anyway) was very meek, gentle and kind, Amy isn't afraid to speak back to the bully who makes fun of her and loses her temper quite often whenever she gets frustrated or upset. But these differences to Dorothy are what makes her unique, and such a great heroine. She appears in Oz the same way that Dorothy does, and meets some pretty cryptic characters who will only give half-answers to her questions. All she knows is that Oz is in terrible shape, and the only way the people can live happily and without fear is if their new princess is killed. And guess who the only person able to do this task is?
I also love the way Paige re-imagined Dorothy's character. She discovered how to use magic and being able to do whatever she wanted got to her head. All I kept thinking about was that sweet innocent pigtail wearing girl from the movie, and wonder how she got from there to this.
While I loved this book, there were a few niggly bits I just couldn't get out of my head. For one: the romance. It was basically non-existent. I didn't know whether the love interest was Nox or Pete and a part of me didn't care, as neither was given enough screen time to actually develop a romance or build up chemistry that would make me want to squeal into a pillow (which has happened to me before, namely Sydney/Adrian from Bloodlines series). I also found that some of the characters were too cryptic in giving information to Amy. They wouldn't tell her exactly what the plan was (until everything started going apeshit, that is) and whenever she tried to ask questions they very rarely gave her proper answers, they mainly just resulted in making her more confused. I mean, no wonder the poor girl made some errors! She had no idea who her inside helper was and when her best strike of action would be.
But those were the two basic things that Paige did wrong, and they paled in comparison to everything she did right. She was able to cleverly mix the classic tale everyone knows about with some brand new elements that really made the story her own.
Oz fans will appreciate the nods she gives to the original series while still allowing new fans a glance into the world of Oz and the yellow brick road.