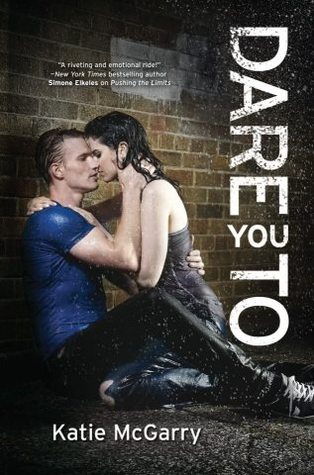 Book
: Dare You To, Katie McGarry
Series
: Pushing the Limits Series, #2
Publisher
: Harlequin Teen
Release Date
: May 28th 2013
For some reason when I read this book the first time, I didn't enjoy it that much. Now, re-reading it after Breaking The Rules, I don't understand my own head sometimes. What it wrong with me?
This book was amazing. It's just as amazing as the rest of the books in McGarry's series. This book is from the point of view of Beth, Noah's best friend who also comes from a broken home. She's had a very tough life without a father and a drug-abusing mother who is dating a guy that not only hits her, but will try and kill Beth whenever he sees her. And when Beth goes too far in trying to protect her mother from getting killed, she gets arrested. The only person able to afford bail is one person Beth hasn't seen in years – her uncle Scott. He left her when she was six and made it as a professional baseball player. He has the means to bail Beth out, but on one condition – she has to go live with Scott, away from Noah and Isaiah and her mother. This is where Beth meets Ryan.
Ryan comes from a completely different background to Beth. He's a baseball player, with a perfect family with anything he could want at his fingertips. But Ryan's life, while seemingly perfect on the outside, is a raging hurricane on the inside. His brother was disowned by his parents for lifestyle choices and left Ryan in the dark. He thought his life was set in stone and that he knew what his future was going to be, but everything changed when Beth arrived in his life. Through her, Ryan begins to see that life isn't as straightforward as he always thought it was and that baseball shouldn't be his everything. He discovers other interests and another future and learns to stand up to the people that have been pushing him in the other direction. While he isn't as amazing as Noah or Isaiah, I think Ryan was a perfect match for Beth and their opposites are what bring them together and help each other grow.
"I trusted Scott, my mother and my father. I trusted Luke, my aunt and Isaiah. All people who left me. All people who faded into darkness. My heart has been ripped multiple times and each time I repaired it on my own. I know my limits and if someone rips me apart again, I'll never find the strength to pick up the pieces."
This quote pretty much sums up Beth's major issues in this book. She finds it difficult to trust people because she feels like everyone who should have stayed left. With very little self-esteem, she can't understand why Ryan would like her because she believes she's such a mess. It was very sad to read, but throughout the book, with Ryan and her uncle's help, Beth slowly begins to realise she is worthy of love and that the people who truly love her will never leave her. I especially liked Beth's relationship with her uncle. Scott was the man Beth saw as a father when she was young, one she imagined would never leave. But when Scott grew up, he couldn't take Beth with him and it left a wound on Beth's heart that never fully healed. But we see their relationship grow again throughout the story as Scott tries to convince her that he isn't leaving again.
I adored this book. It was just as amazing as PTL, and I was constantly itching to keep reading to find out Beth and Ryan's fates. I would definitely read this book, along with every other book in this series, as McGarry continues to write heart-warming stories about relatable characters you can't help but love.