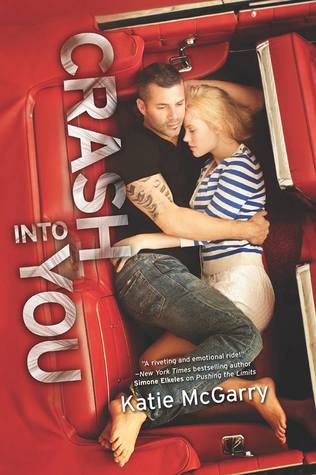 Book
: Crash Into You, Katie McGarry
Series
: Pushing the Limits Series, #3
Publisher
: Harlequin Teen
Release Date
: November 26th, 2013
W
e first met Isaiah in
Pushing The Limits
, as a best friend to the then-main character, Noah. With his many tattoos, hoop earrings and intense grey eyes, Isaiah has the world terrified of him based on his look and reputation: someone who does what he wants when he wants and doesn't let anyone stand in his way.
After being moved from foster home to foster home for eleven years, Isaiah feels completely unwanted and unloved, without any idea what it's like to have a proper family I'm sure so many of us take for granted. The only family he does know is Noah and Beth, two people he met in a foster home and are the only people who he'll let see the real him. After the girl he loved (Beth) left him and fell in love with someone else, Isaiah is left angry, broken-hearted, and feels he is losing the only family he had. All he wants is to have a good life once he's out of the foster care system, but to do that he needs money. So he turns to the one thing he knows – racing cars. So he goes to the drag races to win some money, but fate intertwines in the form of Rachel Young.
Rachel is also seventeen, but seems so much younger than Isaiah in many ways. She's the complete opposite of him: she comes from a wealthy, prestigious family with parents and four overbearing older brothers. Being the youngest makes them doubly protective of her. What also makes them protective of her is Rachel's role: she is a replacement daughter. When her older sister Colleen (that Rachel never met) died from cancer, it rocks her parents to the core as well as her two oldest brothers. So Rachel hides who she really is to please her parents and make them think she is just like Colleen. However, it seriously messes up Rachel. She suffers from confidence issues, and suffers anxiety attacks whenever she's supposed to give a speech about Colleen at her mother's fundraising events. The only thing that calms her down is cars, a love she has to hide from her mother as it would disappoint her as it's not something Colleen loved.
So Rachel goes drag racing to the same place Isaiah is racing. However, Rachel, having being coddled and protected by her brothers her entire life, is naive, and so when she gets in way over her head, Isaiah comes to her rescue. They both get in trouble with bad people, and have six weeks to work together to save themselves.
These two had so much chemistry, it was amazing! I'll admit, in the first book I assumed Beth and Isaiah would end up together, but now I'm glad that's not the case. I realised that the two of them would never work as they were doing what they shouldn't: bringing out the worst in each other. Isaiah is an extremely loyal person, so much so that he feels he has to control and protect everyone and everything he loves. So Beth, being a train wreck, constantly needed Isaiah's protection. This was the opposite with Isaiah and Rachel. As Rachel was already being overprotected by her brothers, she felt the need to show Isaiah that she wasn't weak and didn't need to be protected. He made her stronger, and she helped Isaiah learn that he can't and shouldn't control everything. They brought out the best in each other.
I loved that we still got to see the characters from the other books make an appearance in this book too, i.e Noah, Echo, Beth, Ryan and Logan. We even got introduced to a new character, Abby, who I really enjoyed and hope that we'll see more of her or even give her her own book! (Please please please!)
Anyway, I really enjoyed this book and would definitely recommend it to everyone.