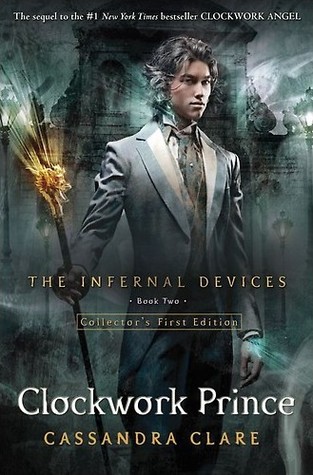 Book
: Clockwork Prince, Cassandra Clare
Series
: The Infernal Devices #2
Publisher
: Simon & Schuster
Release Date
December 6th, 2011
Rating: 5 stars
Cassandra Clare delivers again in this emotionally crippling, completely addicting sequel to Clockwork Angel. We once again meet Tessa, a shape-changing (Shadowhunter? Down Worlder? Something paranormal anyway), who is being accustomed to her powers and, along with the other Shadowhunters in the London Institute, have to try and defeat the evil Magister with his terrifying Clockwork Army. While this plot was incredibly intriguing and interesting, it was also the development of the characters and relationships between our beloved independent Tessa, the enigmatic Will and thoughtful, sensitive Jem that really captured my heart and made me love this story.
I absolutely adore Tessa as a heroine. I might have mentioned this before, and I'll say it again, I just LOVE HER. I normally don't like novels told in the third person, but Clare really makes it work in this series and I still feel as close to the characters as if they were written in the first person. Tessa, just like in Clockwork Angel, is as independent, funny, smart and caring as she always is, but is still able to keep that 19th century charm and class. She would never speak out of turn or in an unladylike fashion. She'll do her best to protect these people she's starting to consider her family, while still trying to figure out exactly who she is and where she belongs.
Oh Will. He was so mysterious in Clockwork Angel; he kept pushing everyone away and we never knew why… well now we do! Thankfully we get an explanation for why Will wouldn't let anyone close to him and it was so heart-breaking, I almost cried. It makes total sense then why he wouldn't let anyone close and now all I want is for him to get his happy ending. He deserves it so much. He develops a lot in this book, even though he's by himself for a lot of it. It's obvious he's completely smitten for Tessa but is afraid to let her close to him, even though it's all we want for them! Will is still wise-cracking, funny, and caring, and even when he acts like he doesn't deserve it, you can't help but love him. And that balcony scene does not disappoint – it's as swoon-worthy and passionate as you hoped, the best the series has provided so far!
Jem is the complete opposite to Will, but is just as lovable. He and Tessa grow very close in this book as they're put in many situations together. He's still as sensitive, giving and just plain GOOD as he is in Clockwork Angel, but his feelings for Tessa are much more prominent in this book, even though Tessa doesn't see them for the first part of the book. We know Jem is sick, and he hasn't got long left, but you still can't help cheering for him and want him to live happily ever after.
I was so conflicted in this book. This is definitely the best love triangle I've ever read, and I normally detest love triangles. We're given many reasons why Tessa loves both these handsome, noble boys, and why she should pick either, but we're also given plenty of reasons why she should pick neither, too. I normally have a favourite in these situations, one "team" I root for, but I love both boys so much, I wouldn't mind who Tessa ends up with (as long as the other is happy too) I felt Tessa's confusion over being pulled between both of them, as they both have great chemistry for Tessa, and both care for her so deeply. They both deserve her, and you know they'll both take care of her. But no matter whom she ends up with, or if she chooses herself, you can also see she has built an extremely powerful friendship with those boys that will last a lifetime.
However, no matter what happens with this love triangle, I will also be cheering for Sophie and Gideon, who right now are my favourite couple ever! Are they Alec and Isabelle's great-grandparents??
<SPOILER> Okay, in this part I have to spoil it, because I just need to vent. Oh Jessamine. I had such high hopes for you. I really thought you were going to prove what a great Shadowhunter and ally you were and come through when we needed you the most. I still haven't given up on you!
And the engagement!! Eek! Team Jem fangirls will love that, but I couldn't help noticing something. When Jem was proposing, Tessa's inner dialogue spoke about how she couldn't bear to see Jem look disappointed and just wanted to protect him. This reminded me so much of when Tessa would say how she and her aunt would protect Nate from getting hurt. I think Tessa loves Jem as a brother but just doesn't realise it. Because whenever she would talk about her feelings for Will, she would mention how her heart would thump loudly, and she'd feel heat and passion. She never had that with Jem. Maybe in Clockwork Princess Jem and Cecily will get close and then we'll have Jem/Cecily and Will/Tessa!<SPOILER>
Some authors would find writing in a Victorian era difficult and mightn't be able to help throwing in modern references, but thankfully, Clare is not one of these authors, and I'm so glad. I never read novels set so far in the past which made me nervous about reading this book in the first place, but I love the setting and she makes London seem amazing.
Overall, this was a great sequel to what's fast becoming one of my new favourite series. I can't wait to read Clockwork Princess and find out how this will all end.