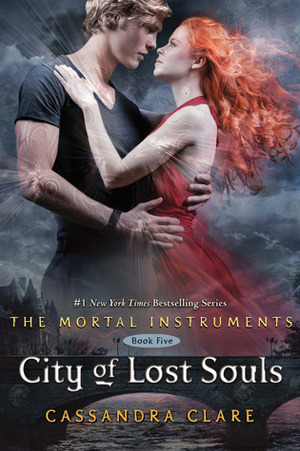 Book
: City of Lost Souls, Cassandra Clare
Series
: The Mortal Instruments #5
Publisher
: Margaret K. McElderry Books
Release Date:
May 8th, 2012
I have to applaud Cassandra Clare. This book was spectacular! I left City of Fallen Angels with a pretty icky feeling, like the one you get from a book that's from a series you love but the book didn't give you the warm fuzzies you were hoping for. This book though, wow! As good as City of Glass, but this time you know it's not the end of the series and you get to look forward to another one!
At the end of City of Fallen Angels, Jace had been released from Lilith's control and the other Shadowhunters had arrived to help. But… when Clary leads them to Jace, Jace is mysteriously missing, as is Sebastian, who was supposed to be dead. Clary, Alec, Isabelle and Simon all assume the worst, and it gets even worse when the Clave fail to prioritise Jace's search and rescue, which means Clary and "Team Good", have to try and find Jace themselves. This involves breaking some major Clave rules, lying to a lot of people and using some fairly unconventional methods to try and locate him.
Then Jace suddenly reappears in Clary's room one night, begging her to come with him. Clary doesn't understand why Jace would stand with Sebastian, until her worst fear is confirmed: Jace and Sebastian are linked. In the type of one where if one gets hurt, so does the other. Kill Sebastian, kill Jace. Suddenly Clary is caught up between the love of her life and her long lost brother, and I felt her confusion right along with her. Jace was not Jace, and Sebastian was putting a damn good act on at being a caring big brother who just wanted a relationship with her. I wasn't sure who to trust or who would get stabbed in the back. It was great to read though, and I was glued to the page throughout the entire book. Clary is playing a dangerous game, and she had to be careful in executing her plan while she bargained for Jace's freedom.
While Clary was trying to save Jace from Sebastian, we also have Simon, Isabelle, Alec, Magnus, Maia and Jordan trying to save Jace by summoning something that could result in losing their lives, or worse, their souls. A lot of relationship development happens in this book too, which I really enjoyed.
Isabelle is realising how much she's depending on Simon and it's scaring her as she's always been such an independent person. But I think Simon is her conscience, he's her light in the darkness, always ready to catch her if she falls and guide her way. I really loved their relationship in this book.
Maia and Jordan have amazing chemistry together, but Maia also can't forget that Jordan ignored her for three years. We see them work through their differences in this book, and work together when a member of Maia's pack gets hurt.
Finally, Alec and Magnus. Magnus is a fan favourite, and doesn't fail to amuse me in this book. However, someone told me what happens with them, and because of that I noticed little bits of their relationship fall away that I might not have noticed had I not been spoiled. I really love their relationship as it's so unique and unorthodox. Alec and Magnus make each other stronger, even if they don't realise it. I need to learn more about what happens to them!
Besides the utterly kickass way Clare handled the plot of this book, I also love how she made our characters grow. Jace and Clary was always a very fragile couple, with Clary's recklessness risking both their lives multiple times, and Jace's tendency to punish himself driving a wedge between them. However, at this book's end, both characters have come to a revelation that while they are both strong people individually (and they have come a long way), they are ultimately strongest together. By protecting each other, and using each other as strength, there isn't one obstacle they can't overcome together. This, I think, was the strongest part of the entire novel. I didn't like Clary at all at the start of this series, but she has come a long way since that fateful night in the Pandemonium Club. I know she's only going to grow stronger from here on out, and I can't wait to see her grow.
I also have to give a shout out to Ms Clare for all those references to The Infernal Devices. Every time Will Herondale's name came up, or even just a hint to him, (such as Jace's hate of ducks) I squealed like a fangirl. And knowing Brother Zachariah's true identity, I loved how much he was interested in finding Jace. Will and Jem forever!
This book was fantastic, and I just hope that Clare ends this fabulous series on a high note with City of Heavenly Fire.