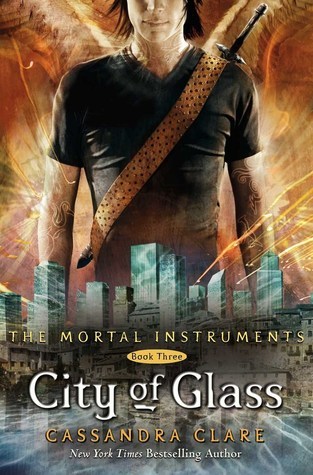 Book: City of Glass, Cassandra Clare
Series: The Mortal Instruments #3
Publisher: Margaret K. McElderry Books
Release Date: March 24th, 2009
Rating: 5 stars
These books just seem to be getting better and better! I can't believe I used to think this series was only average. City of Glass was supposed to be the final in a trilogy, so Clare wrapped up every loose end from the first two books, and you couldn't help finishing it with a smile on your face. I'm so glad I'm off college for the moment, as it means I can binge read these books for hours and just forget about real life for a while.
It's really hard to review this book spoiler-free, but I'm going to try, but just be warned that there may be minor spoilers if you're someone who thinks any spoiler is terrible. I had seen all the major OMG moments from reading the book the first time, so it was nice to see our characters before they knew what was going to happen and see things you wouldn't if you were reading the book for the first time. As this was the supposed-finale, we have a lot of growth from our characters. The tone of the book was a lot more serious, with fewer sarcastic remarks thrown in (although they weren't gone completely), and even Valentine finally seemed more like an evil overlord rather than a sneaky politician (although I still think the Magister in the Infernal Devices series is portrayed as an evil villain much better than Valentine is).
While Clary isn't given as much growth as I would've liked, Jace is given enormous development, which I loved. He really grew on me in this book. He was extremely confused over his feelings for Clary as well as his father, whom he knew was evil, and yet he still couldn't stop feeling affection for the man who raised him for the first ten years of his life. When a huge secret is revealed about his past, Jace has to re-evaluate himself to discover the type of man he wants to become. I think Isabelle grows as well in this book, as certain circumstances force her to see that she has to grow up. While she started out as quite a shallow character, she has really grown into her own and I can't wait to see more of her in the coming books.
I think if I had read this book for the first time as I am now, I would feel emotionally drained from all the events that happened. I would've cried, squealed, screamed, and laughed along with our characters. As it is, I can appreciate how much each character has grown for the better. Some have discovered that while they have been gifted with the power to defeat demons, this doesn't make them God, and that they may need help from time to time, even if the source of that help isn't from where they were expecting.
This book is well worth the read, especially if you felt City of Bones was only meh. You'll love it, trust me.