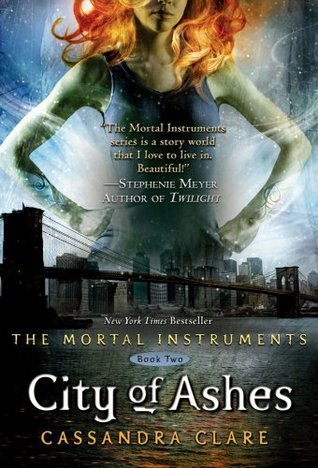 Book
: City of Ashes, Cassandra Clare
Series
: The Mortal Instruments #2
Publisher
: Margaret K. McElderry Books
Release Date:
March 28th, 2008
Rating: 4 stars
I have to say, this book was so much better than City of Bones. Maybe it was because all the introductory stuff is out of the way and we can focus solely on the plot this time? Or else Clare is improving on her writing skills so that the plot is more evenly paced and the characters aren't as clunky? Either way, I thoroughly enjoyed it and binge-read it in like three days.
Clary, our ordinary 15-year-old turned uniquely talented Shadowhunter, has improved slightly since COB. She still seems kind of hostile and mean to those around her, but with the way her life was completely turned upside down, backward, diagonal, and every other which way, I don't blame her for taking out her stress on everyone. I wouldn't be surprised if she has a mental breakdown one of these days. Her mother is still in a seemingly irreversible coma and her relationship with Jace and Simon is ice-thin, yet she still continues to thread the ice. After finding out that Jace is her brother, she struggles to control her inappropriate (but
forgiveable
, considering she didn't know she had a brother) feelings for the boy that can't be hers. So she turns to the other boy that has loved her ever since he met her. However, I felt that she and Simon's relationship seemed really forced and unnatural. While it was obvious Simon adored her, Clary's feelings never seemed to go past best-friend mode. I think the only reason she agreed to be with Simon in the first place was because Simon was the only thing in her life she understood and was the same. With everything around her changing, Simon was the one constant in her life that reminded her of her old life (besides Luke, but even he was a werewolf) and she was desperate to hold onto anything that made her think her life wasn't changing that much.
Clary also struggled to be of use to the Shadowhunters, and, as she was still so new and untrained, she appeared more of a liability than an asset, and my heart cried out for her. She tried her best but you could tell the others felt she was more in the way than of any help. We get a lot of great action scenes that Clare described really well, and we meet a lot of the old characters as well as some new ones including a new werewolf introduced called Maia, who I really liked. I hope we see more of her in the future. Thankfully not as many characters as in COB, so they could be a little fleshed out. Some paragraphs are devoted solely to other characters besides Clary, such as Simon or Jace, so we get more understanding into the kind of character they are.
We also get an insight into Jace and his ever-confusing feelings about Clary and his father. I'm getting the feeling that his lineage isn't as straight forward as everyone thinks, and I have a few theories in mind <SPOILER> is he Stephen's son??? The Inquisitor seemed to think so because of the scar before she died! Hmm…<SPOILER> He and Clary are trying to ignore their feelings for each other but it's obvious to everyone and their mother that the two like each other and the two go from not hesitating to help each other to completely avoiding each other. It was interesting to read and I can't wait to see how Clare handles their relationship.
Valentine is still executing his plan to make Shadowhunters the superior species, and while he does seem to be getting eviler, I'm still getting a politician-like vibe off him. Everyone always seems to say how charismatic he is and how it's impossible to disagree with him. Isn't that what a politician is like?
All in all, this book was much better than the first and had a lot of interesting things happening with nice character development. I can't wait to dive right into City of Glass (the supposed finale that turned out to be not the finale) to see how our heroes proceed.