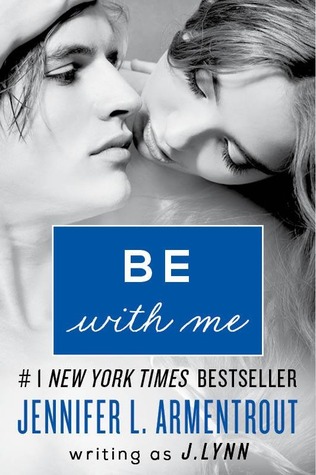 Book
: Be With Me, Jennifer L. Armentrout
Series
: Wait For You series #2
Publisher
: Entangled Publishing
Release Date
: February 4th, 2014
*Note: This book and series is NA, not YA*
I enjoyed Wait For You. While I didn't like Avery that much as a main character, I did like Cam. And that was enough, because J. Lynn is one of my favourite authors and I was not going to not finish reading a book of hers anytime soon. So, because I liked those books, I said I'd read Be With Me, just to find out what happened to Avery and Cam.
And Oh My God. This book was so much better than the first! I got totally invested in the characters and needed them to get their happy ending. It tells the story of Teresa (Tess), Cam's little sister. She's got a crush on her brother's best friend, Jase. However, Jase tries not to like her back because she's his best friend's little sister. But neither can deny the attraction toward each other when they both fall prey to a rockin' kiss that Tess now can't stop thinking about. However, she just got out of a terrible, abusive relationship, and had a bad accident when she was dancing and now everyone tiptoes around her like she might break any second, including Jase.
This book was awesome. Just when I thought everyone was going to get their happy ending, I realised I was only barely halfway through the book, and more "God dammit J Lynn!" thoughts would float around my brain as I discovered that she was about to think of new ways to disrupt Jase and Tess's happy ever after. Like a big secret Jase is harbouring, and Tess's past coming back to haunt her.
Tess went through so much pain, angst and trauma during this book but she managed to come out stronger because of it. The future she expected was taken away from her, and she experiences a horrific sight no one should ever have to see. But she gets through it, and I admired her so much for it. While Avery backed out every chance she got to tell Cam about her past in the first book, Tess doesn't show as much fear. When everyone tiptoes around her, she tries to show them that she's not fragile and succeeds.
I much preferred Avery in this book. Seeing her and Cam all loved up was super cute, and I'm glad they had such a big role in this book despite not being the main characters. Normally you just get a glimpse of the main character from a previous book but don't focus on them, but I'm glad they were so prominent here. You just know they're going to be together forever.
While this series will never live up to JLA's Lux series, I still enjoyed this book and feel the series has promise, and I'm definitely going to give the other books a go.