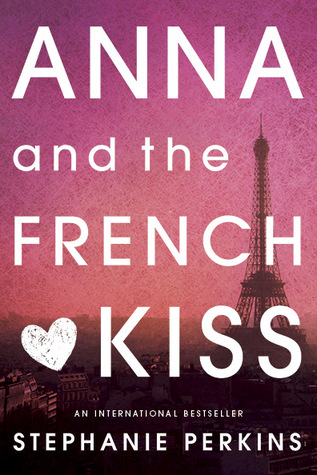 Book
: Anna and the French Kiss, Stephanie Perkins
Series
: Anna and the French Kiss #1
Publisher
: Dutton Juvenile
Release Date
: December 2nd, 2010
I will not lie, this book is adorable. It screams of first world problems, though. I felt like I was reading an article about the woes of having your named spelled wrong on a Starbucks coffee or when you're in bed but then realise you need to pee but you're too comfortable to get up.
It tells the story of Anna, a girl with an incredibly sad sob story. She's perfectly happy in Atlanta with a maybe boyfriend, a job and a loyal best friend. But then, wait for it... she's sent off to a boarding school in Paris, France, for rich American kids! And poor Anna is devastated. What about her maybe boyfriend? And her job? And what if her best friend forgets her?
But then Anna opens her door into the world of Paris and discovers what an amazing opportunity she's been given. She becomes friends with her next door neighbour fairly quickly, and in turn becomes friends with her friends, including the eat-for-dessert Etienne St. Clair. He and Anna hit it off immediately, with her adopting an unquenchable crush on him. However, St. Clair is taken, so Anna is forced to look on in misery as St. Clair remains just out of her reach. She constantly attempts to convince herself that she and St Clair are just friends but the chemistry between them is palpable and everyone knows it. However, due to the girlfriend, Anna is afraid of making a move, and St Clair doesn't want to hurt anyone so he doesn't do anything. However it was still adorable to read and I really enjoyed all the characters.
Anna was a very relatable character. She's completely overwhelmed in being in a completely different continent, away from everything and everyone she's ever known, but the author makes her experiences totally believable. She's flawed, awkward, funny, and a genuinely nice character. I cheered when she succeeded and wanted to cry when she didn't. I also enjoyed her relationship with her friends (minus St Clair, he gets his own paragraph!), and how she becomes a fish out of water to suddenly thinking of Paris as a second home. She develops gradually and while there's a sense of "Finally!" by the book's end, it's still wonderful to read because you know Anna had to work and look inside herself to see what she truly needed, instead of what she thought she wanted.
And now we get to St Clair. Oh St Clair. What do I say about you, you hunk of book candy? I believe he has totally made my list of doable book characters. He's a totally nice guy (which is how Anna describes him many times when she doesn't know how to say how she feels), he has an English accent, he's swoon-worthy, and that beauty is not skin deep. He's the type of guy who, when he sees you upset, instantly rushes over to help. His and Anna's relationship was extremely well written, I really have to applaud the author for that. They start out as friends despite their growing attraction, and at first, they ignore that part of themselves. They hang out, laugh together, and they both feel they can be themselves around each other and it was lovely to read. Anna isn't afraid to express her dorky love for films, while St Clair expresses his fears over an ill family member. St Clair can tell whenever Anna's upset and immediately wants to be her knight in shining armour, and even Anna can tell by little gestures (like which nail he's biting) whether St. Clair is happy or sad. While I believe their relationship drama was a little dragged out, I still enjoyed reading it.
This was an adorable read. It had nice teenage friendships and relationships, a wonderful background setting and a great story. The author wrote Paris in an awe-inspiring way that makes it seem like a great place to live (despite me butchering the language in school). While there is teenage angst and melodrama, it's still a fun; light read if you're looking for a cute romance in the most romantic city in the world.