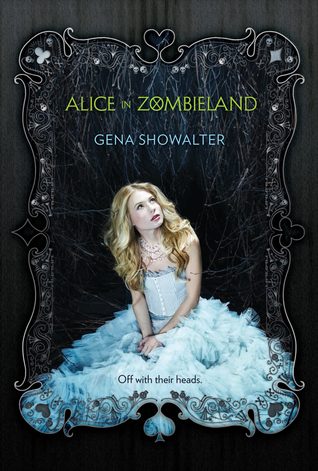 Book
: Alice in Zombieland, Gena Showalter
Series
: White Rabbit Chronicles #1
Publisher
: Harlequin Teen
Release Date
: September 25th, 2012
This book was amazing. I wasn't sure what to expect when I saw the cover, except maybe a zombie-infested retelling of Alice in Wonderland? Well I was wrong! Except for the character's name, a suspicious white rabbit cloud and chapters named after quotes from the book, this couldn't be further from the original Lewis Carroll book if it tried! It centres on one girl's quest to avenge her family's death by destroying the evil beings that killed them.
Alice (known as Ali) was an amazing protagonist. She has definitely earned her place upon my favourite heroine's shelf. She's sarcastic, stubborn, snarky and tough. She made me laugh out loud more than once and I loved the way she stood up for herself and her determination to fight and avenge her family.
Cole, the love interest, was just oh so badass. He immediately exhibited a sense of power, which reminded me of an alpha wolf. He was the leader of a group of people whose purpose was defeating the zombies, and he took his job seriously. They all obeyed him without question, so when Ali shows up and questions every command he gives her, you know it's driving him insane but he's also falling for her hard so he lets her question him, with a small smile on his face. Even though he was completely kickass, he was also incredibly sweet and caring and I loved how protective he was of Ali. The chemistry between them was sizzling. I fell for him just as hard as Ali and can't wait to see him in the coming books.
We meet plenty of other characters too, such as the grandparents Ali goes to live with, who just want her to stay safe and be at home every night, even though she can't. Kat is her best friend who was just amazing. She gave off this sense of self-confidence and always had a comeback at the ready, and I was envious of how outgoing she was. She's the light Ali needed when she was trapped in the dark, and I can't wait to see more of her. There's also the boys in Cole's group which we don't get a lot of development of even insight into, but I hope to see more growth from them in the coming books. There's also an introduction to another group of zombie slayers, however their motives for destroying the zombies are very different to Ali's group, and you know we'll see more of them in the coming books.
While this book was quite confusing at first as there's so much to explain about the zombies, it didn't take away from the plot of the story or the development and relationships of the characters. I was still pulled into the story, even when it was just questions.
While it didn't end on a cliff hanger, I'm still looking forward to the sequel to find out how our characters develop and grow.
I would totally recommend it if you're a lover of funny, brave, tough protagonists, extremely-badass love interests and zombies! It's an epic read you won't be able to put down.